I just have to blab and blab and blab about this. Getting that auto-email saying you made a sale--wow, that's a thrill. So thank you, first sale person. I hope this ends up on the most ginormous and delicious cake ever made.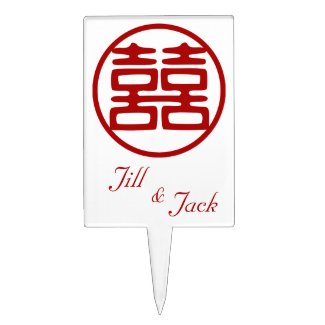 Double Happiness • Round Cake Pick
by
teakbird
View additional
Cake Picks
at Zazzle
The funny thing is: I designed this logo for
my
wedding. It's on my save the dates, invites, stickers, etc. that I created and assembled all by myself. I got into Zazzle because I figured, hey, it was so hard for me to find a good-looking Double Happiness design (not cheesy, not gaudy) that there was a real niche in there.
Now if I could just figure out how to do really nice customized invites on Zazzle.... I'm trying to pull it together and expand the collection to include menus, rsvps, etc. I mean, I need menus for myself (ugh, let me put that on the to-do list).
But this first sale is just the motivation I need to "get 'er done!"
So thank you, thank you, thank you!! And congratulations!